Pictures
Click on any picture to enlarge!
Meet the Chiefs 2019
Asianfest 2018
20th Anniversary Gala
On June 30, 2017 at the Pines Manor in Edison New Jersey The New Jersey Asian American Law Enforcement Officers Association held its' 20th Anniversary Scholarship Awards Banquet The association is the oldest, largest all inclusive Asian based fraternal law enforcement organization in the state of New Jersey It took 20 years for the association to have its' first ever banquet which by most accounts from the almost 300 distinguished guests in attendance was a success on many different levels. Many herein will be thanked for the success of the event and an apology if anyone is omitted by accident.
The NJAALEOA Executive Board: Joe, Neel, Alan, Raymond ,Jonathan and Robert. Also Jamie and Ben
The NJAA Law Enforcement Foundation: Nelson, David, Christopher, Jamie, and Robert. And also Ben
The members of the association. It is simple no members no association and we have some of the best. Thanks to those that helped out during and or the day of the banquet Jamie, Alan, Neel, Virginia, Jamie, Grace, Kimberley, Rajesh, Jennifer , Shirley, Harpinder, Jason and Nelson. A thanks to Mercer County Prosecutor A. Onofri, Eric Lawson, Mayor T. Lankey, Sungbae Ju, and Father Gerry.
Thanks to the Executive staff of the NJ Attorney C. Porrino's office: R. Ricigliano, C. Sashihara and L. Fong. The Sheriffs of Bergen County & Middlesex County and their personnel. The Executive staff of the Mercer, Bergen, and Union County Prosecutors office. The Chiefs of Edison PD , South River PD and the Deputy Ex. Director of the NJ Chiefs of Police, the Middlesex County Freeholders and Edison town council, the NJ Honor Legion, Massachusetts law enforcement personnel Detective K. Mui, and Trooper Warren Yee, the Organization of Chinese Americans, the NYPD Asian Jade Society, the Edison PBA, Corrections local 105, the Choi Law firm, the Society of Asian Federal Officers, Ms Helen Ng and Dr. Munir Kazmir. Thanks to Sarah of the Pines Manor and Geralyn who put our journal together. Thanks to the Tak Wah Eng Kung Fu Club of NY, the Woorigak Korean Center performers and the FFNE Philippine Dance ensemble and DJ Mike. And many thanks to our super supporters, friends and family.
2017 Scholarship recipient : Ms. Madison Polkowitz
2017 award recipients: Attorney General C. Porrino, Rebecca Ricigliano , Joseph V. Luistro, Neel Patel, Christopher Cho, Jamie Yeh, Benjamin Choi, Raymond Alfaro, Alan Chow, and William Schievella
Lastly thanks to Joe and Robert who put in crazy hours for months in the hope that all who attended the Associations' "it took 20 years " first scholarship awards banquet. would have a super memorable time.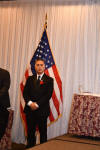 On October 22nd the association held its general membership meeting and NJSP recruitment effort at the Picnic Gardens , Edison New Jersey.
Edison PD Deputy Chief R. Mieczkowski was a guest speaker to those in attendance including invited Rutgers and Brookdale college students. Det/Lieut Eugene Chine received the National Asian Peace Officers Detective Chang Apana during the meeting.
Photos of the meeting......
NAPOA 2016

NJAALEOA member Detective Lieutenant Eugene Chin received the 2016 Detective Chang Apana Award
June 25th 2016 Asianfest 2016

Group Photo

Cherry Hill PD police vehicle

Edison PD police vehicles

Bergen County Sheriffs, New Jersey State Police and Cherry Hill PD police cars

Fanwood PD police vehicle
Clark PD Humvee

Everyone checking out all the law enforcement vehicles

Checking out the cars
December 7, 2015 2015 Law Enforcement Career Development Course

Photo one: R. May makes a few comments in regards to the presentation including thanking the honorable Morris County Sheriff Edward V. Rochford "for "unleashing" Bill Schievella to the people of New Jersey." Just after the reading of the plaque and before the presentation of said plaque to Undersheriff Schievella, the entire audience of well regarded public officials, law enforcement professionals from the federal, state, county, and municipal levels, university staff, the entire gradating class and many civilians personnel gave one William Schievella a STANDING OVATION lasting over 90 seconds.

Photo two: NJAALEOA President Joseph Luistro and 2nd Vice President Neel Patel present the plaque to Undersheriff Schievella.
December 5, 2015 the Organization of Chinese Americans Annual Holiday Ball

Robert May and OCA-NJ President Virginia Ng.


John Bang Esq.- Master of ceremonies, OCA-NJ President Virginia Ng, R. May and OCA-NJ Vice President GinGee Moy
Several members of the NJAALEOA were present at the gala including three past Executive Board members of the National Asian Peace Officers Association. R. May, Executive Adviser to the NJ Asian American Law Enforcement Foundation David Lum and NJAALEOA President Joseph Vincent Luistro.
The National Police Defense Foundation/ State Troopers Coalition 11th annual dinner/awards gala.
NJAALEOA President Emeritus and the one and only NPDF Executive Director Joseph Occhipinti

Robert May receiving his award from NPDF Ex. Dir. with a number of the NPDF board members

Sgt. Laila Cristobal, NPDF honoree Lt. Colonel Latrecia Littles-Floyd and Nurse Millie Luistro

NJAALEOA members Nelson Chen, Joseph Luistro, Robert May, Lieut. Brian Polite, Fred Rivera, Laila Cristobal. Larry Cristobal and Jamie Yeh

Seated- John Ng, Virginia Ng, PAPD Inspector(ret) David Hanna
Standing Fred Rivera, Millie Luistro, Joseph Luistro, Actor Vince Curatola, Robert May, Laila Cristobal and Nelson Chen

Robert May & Joseph Luistro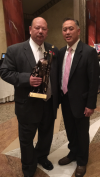 Det. (ret) Robert May, PAPD honor guard Sgt. Scott Kelleher and Inspector (ret) David Hanna

The Port Authority of NY & NJ Police honor guard with Inspector (ret) David Hanna and Detective (ret) Robert May

Robert May with a number of board members of the National Police Defense Foundation

Millie Luistro and Laila Cristobal

Meet and Greet October 2015
R. May, Edison Twp. PD Captain Joseph Shannon, Edison Twp. Deputy Chief Mark Anderko, the honorable Middlesex County Prosecutor Andrew Carey, Middlesex County Prosecutor's Office Chief of Detectives Gerard McAleer, Morris County Sheriff's Office Undersheriff William Schievella & NJAALEOA President Joseph Luistro.

Middlesex County Prosecutor Carey speaking to the audience.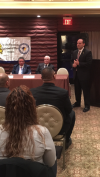 AsianFest 2015
NJ Attorney General John Hoffman

top AG John Hoffman and NJAALEOA President Joe Luistro
bottom : R May, AG John Hoffman, Joe Luistro and NJAALEOA member Ray Alfaro

NJ State Attorney General John Hoffman & Joe Wing the first Asian American hired by the New York City Police Department
September 7th, 2014 Van Saun Outreach Program
Asianfest 2014
NAPOA 2014
Sofa Dinner May 2nd 2014
On May 2, 2014 a contingent of NJAALEOA members attended the 2014 Society of Asian Federal Officers dinner - scholarship gala. The 23rd annual event was very well attended. Our own Nelson Chen who is also a SOAFO member was on stage to make the opening remarks and presentation to Ms. Rae Kim and Mr. Richard Lewis who are the principals to SAFE Benefits Consulting Group. Nelson who is a very through person with any endeavor he handles just stop short of letting the audience know of Rae's and Richard's shoe sizes and their preference of toothpaste. None the less we are very proud of Nelson and kudos to Rae and Richard for being SOAFO's civilian of the year award recipients.
Photo One: Some of the NJAALEOA crew at the 2014 SOAFO event.
Photo Two: SOAFO historian and the great NJAALEOA BBQ chef Eric Lawson and SOAFO President David Chan
Photo Three: Chief Thomas Chan (NYPD), NJAALEOA Pres. Emeritus Robert May, NJAALEOA President Joseph Luistro and Sargent Susan Wong (NYPD)
Other photos of NJAALEOA members and guests enjoying another great event hosted by our fellow brother/ sister fraternal organization, The Society of Asian Federal Officers








On April 16th, 2014 members of the association met with the honorable Union County Prosecutor Grace Park. Prosecutor Park is the first Asian American female county prosecutor in New Jersey. The meeting was very productive as Prosecutor Park was informed of the history of the NJAALEOA, how the association has assisted law enforcement entities in the past, our community outreach endeavors and the language skill set many of our members possess which may be helpful with a variety of law enforcement issues.
November 21st, 2013 Tom Masters Retirement

2013 Rutgers Career Day
2013 AsianFest
2013 April 15th Judge Carlia M. Brady being sworn in the newest Superior Court Judge

Sheriff's Officer Dennis

M

. Valdez,

Judge Brady,

NJAALEOA

Pres. Emeritus Robert May and

NJAALEOA

Director of OEM operations Jamie

Yeh


NJAALEOA

member Middlesex

County

Sheriff's Officer Dennis

M

. Valdez meeting Judge Brady with

NJAALEOA

Pres. Emeritus Robert May
2012 December 8th NJAALEOA Meeting
2012 Chinese American Award Dinner
Asian Fest 2011
Click here to view more photos on our sister site
These are photos taken by Jamie Yeh while the NJAALEOA participated in the Families with Children from China/ New York event which was held at Liberty State Park. Thanks to all who helped out Jamie Yeh, Alan Chow, Jose Raboy and Virginia Ng. It was good to hang with out vendor buddies from OCA New Jersey who also participated in the event.
Sheriff Lee's Funeral
Regan Fong - Dept of Homeland Security & President of NAPOA, John Lee - ATF - Sgt @ Arms NAALEC, Tom Maruyama - Dept of Homeland Security & President of NAALEC Sheriff Lee' paper mache' used in special events Robert May - 1st VP NAPOA & Founder of NJAALEOA, Hoi Ping Lee - NYCPD Asian Jade Society, Billy Quach VP NAAALEC
Sheriff Newell Normand in front of the casket of Sheriff Lee with family members seated, actor Steven Segal with Officers from the Jefferson Parish Sheriff's Office.
Sheriff Lee with the Louisiana State Police & Jefferson Parish Sheriff's Office honor guards.
Louisiana Law Enforcement Officers Memorial.
2007 Asian Fest
Associate Member James Yeh helping with the flood disaster in Bound Brook
2007 Chinese New Year Celebration
Katrina Relief Effort
Statewide Cultural Program
2006 Asianfest Picnic